LOGISTICAL & GEOGRAPHICAL ADVANTAGES TO
KEEP BUSINESS MOVING
Alabama sits at the heart of the fastest-growing region in the United States. Located along the central Gulf Coast, major rail, air and highway transportation systems converge along the Mobile River at the Port of Mobile, connecting Mobile businesses with the nation and the world.
Mobile is the fastest-growing container terminal in the United States.
THE PORT OF MOBILE
AT A GLANCE
ACCESS TO 9 RAILROADS
including 5 class 1 and 4 short lines all converging in one yard at the Port of Mobile.
INTERMODAL CAPABILITY
including direct ship-to-rail, ship-to-truck and ship-to-barge capabilities to efficiently access the Southeast and Midwest markets.
HARBOR DEEPENING & WIDENING
will be completed in 2025 to make Mobile the deepest port in the Gulf of Mexico.
45
Minute Turnaround Time
15,000
Miles of Inland Waterways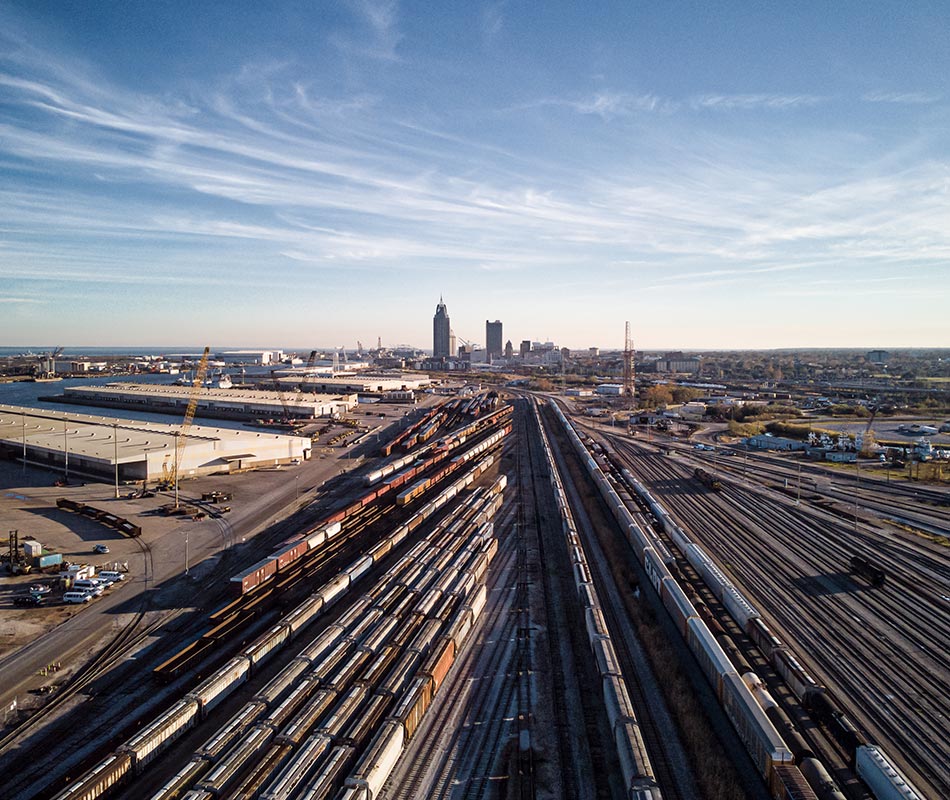 RAIL
With direct access to five Class 1 railroads and four short-line railroads, including the Port's terminal railroad, Mobile gets your containerized, bulk or breakbulk cargo moving in any direction needed.
Access to five Class 1 railroads – Norfolk Southern, Kansas City Southern, CSX, Canadian National and BNSF
Access to four short-line railroads, including our own terminal-switching railroad
Port-owned and operated terminal railroad – with 100 freight cars, eight locomotives and 75 miles of track
Intermodal capability to the Southeast and Midwest
On-dock rail capabilities
Near-dock rail capabilities with the Intermodal Container Transfer Facility
Dedicated Mexico-to-Mobile rail ferry service every four days
SHIP
We keep your supply chain moving by moving vessels in and out as efficiently as possible, providing fast transit times and cost-effective solutions. Unlike other major Gulf Coast ports, the Port of Mobile is three hours from the Gulf of Mexico. Mobile has modern equipment to handle all cargo.
Harbor deepening and widening completed by early 2025
2 port operations – Port of Mobile (50-foot depth) and the Theodore Industrial Canal (40-foot depth)
Modern ship-to-shore cranes
Special cargo and project handling operations
Efficient pilot operations
Rail, barge and truck connectivity with port operations
BARGE
The Port of Mobile is one of only two deep draft ports in the United States with direct Gulf access to the 15,000 miles of inland waterway access. This best allows dry bulk, liquid bulk, breakbulk, containerized and project cargo to be transported economically to and from the heartland of America.
Low-cost barge transportation to and from the Port of Mobile and throughout the U.S. inland waterway system
Direct connection to the Tennessee-Tombigbee Waterway System
Direct connection to the Gulf Intercoastal Waterway
World-class bulk transloading terminals with floating and shore-based duty cycle cranes
Large barge fleeting, shifting, cleaning and repair operations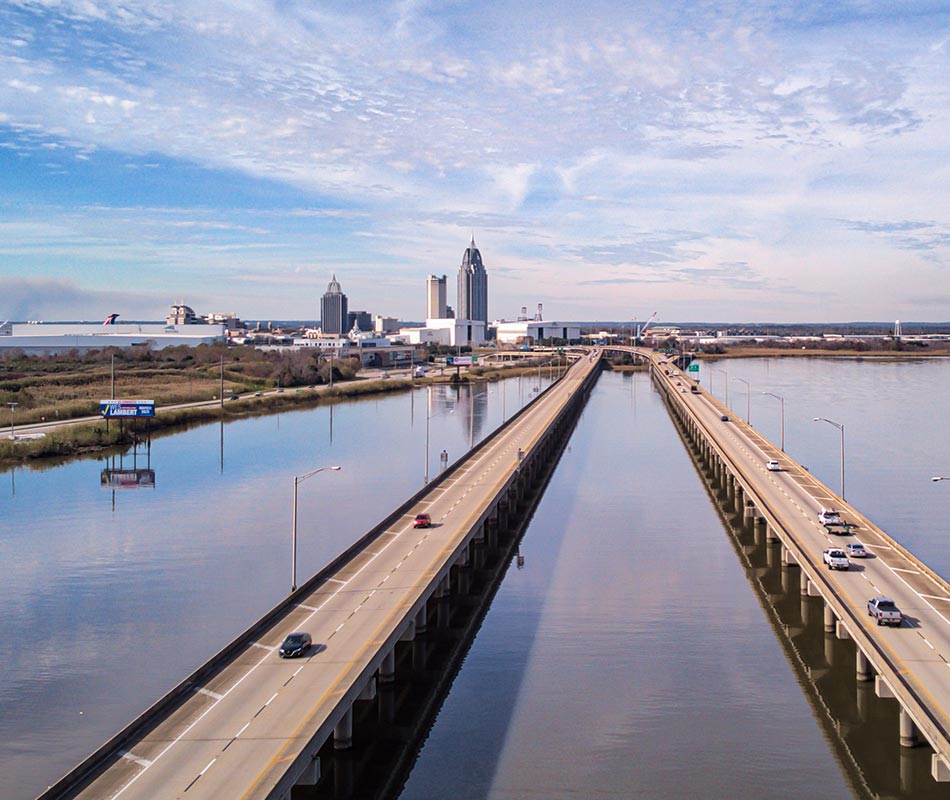 ROAD
Mobile has direct and easy access to both I-10 and I-65 Interstate highways, helping businesses cover North to South, East to West and all points in between. With adequate road infrastructure and virtually no congestion, you'll be in and out in no time.
New I-10 Mobile River Bridge construction starting in 2024 ($2.7 billion investment)
Accessibility to I-10 (Los Angeles to Jacksonville) and I-65 (Mobile to Chicago)
Quick speed to market for all cargo, including refrigerated products
Lack of congestion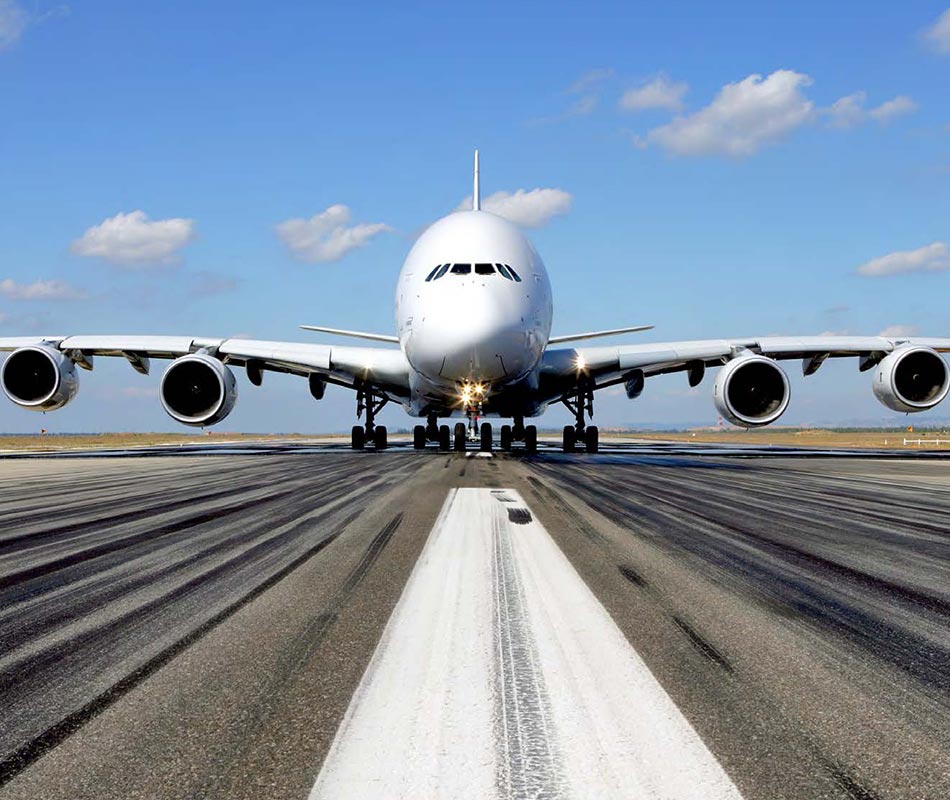 AIR
The Mobile Aeroplex at Brookley and the Mobile Regional Airport, owned and operated by the Mobile Airport Authority, connects passengers and cargo around the country. Home to world-class aerospace operations, such as Airbus, Continental Motor Group and ST Engineering, the Mobile Aeroplex at Brookley is the future home of the Mobile International Airport.
New commercial terminal to be completed by 2025
9,618 ft and 7,800 ft runway at Mobile Aeroplex at Brookley
8,502 ft and 4,376 ft runway at Mobile Regional Airport
Daily commercial flights to Atlanta, Charlotte, Houston, Dallas and Orlando
Daily air cargo services with FedEx and Amazon
MOBILE INTERNATIONAL AIRPORT
TAKING OFF IN 2025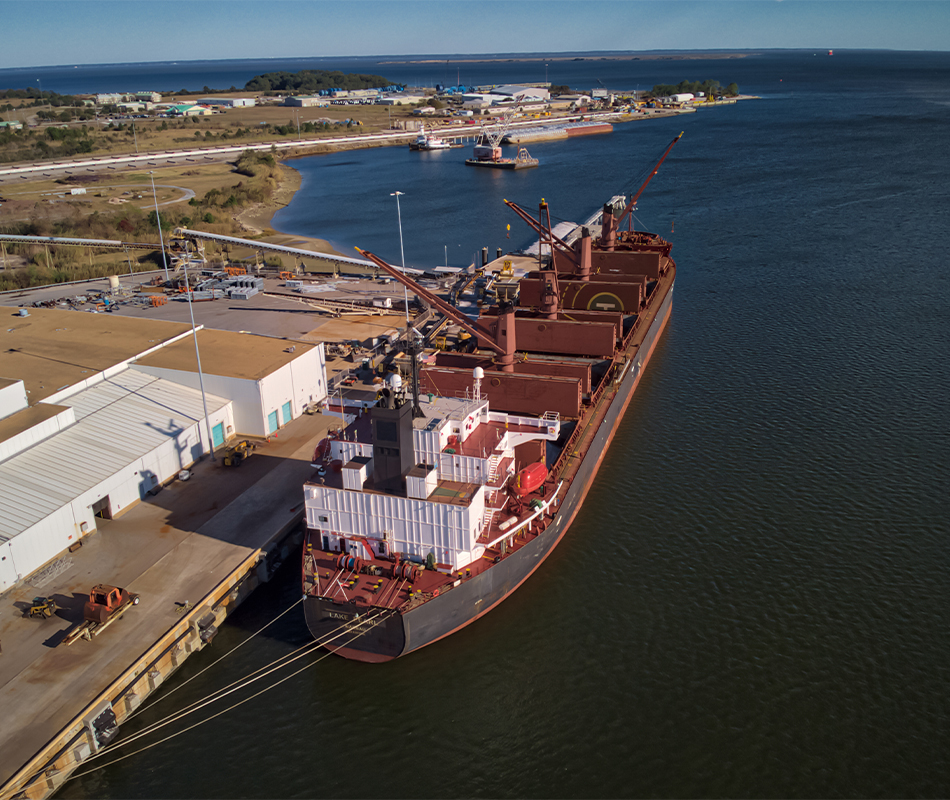 Theodore Industrial Canal
The Theodore Industrial Port serves multiple industries including oil & gas, chemical and agriculture. Privately owned and operated by Core Industries and Millard Maritime and federally maintained at a 40-foot draft, the industrial canal empties into the Mobile Bay ship channel with no obstructions, providing quick access to the Gulf of Mexico and Alabama's inland waterways.